Eat Like a Local at our Chef's Table Dinner on February 4, 2019
We all know the value of eating local and eating within the season – it supports your community, food is fresher and better for you, and it reduces your carbon footprint because your food is spending less time traveling to you.
At Broad Table Tavern, our menus are inspired by the seasons, showcasing locally sourced ingredients and regional artisan products. By celebrating our partnership with local farms, vineyards, breweries, and purveyors, we are able to serve the freshest ingredients - every day. The Common Market, a nonprofit, mission-driven food distributor, serves our Mid-Atlantic region by building a vibrant network of food systems to support similar small businesses like Broad Table Tavern.  Working with over 200 family farms and producers, they have been able to connect a variety of distributors and restaurants to good food since they started in 2008. "The Common Market allows Broad Table Tavern to live by the same standards, Broad Table Tavern opened in 2016 with similar values of collaborating with regional purveyors to bring our community foods that are not only healthy but also delicious".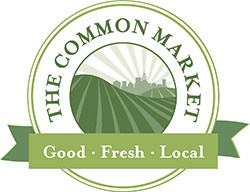 Each month, Executive Chef Drinkwine welcomes a guest to his Table at Broad Table Tavern, located at The Inn at Swarthmore for our Chef's Table Series. Whether it's another Chef, a vineyard, or a food a purveyor, all are welcome to celebrate the seasons with guests by breaking bread. This intimate, monthly, Chef's Table series is limited to no more than 14 guests and creates a relaxed atmosphere allowing guests to chat directly with Chef Drinkwine and his guest. This provides the group with a unique perspective to learn where their food comes from what inspires Chef Drinkwine and his guests.
"The Chef's Table series allows our guests the opportunity to try something they may not otherwise be exposed to", says Chef Drinkwine. "By bringing in guest chefs and partnering with some of the finest food and beverage purveyors, it allows me to also be inspired by the different talent and availability of some of the freshest ingredients that are out there".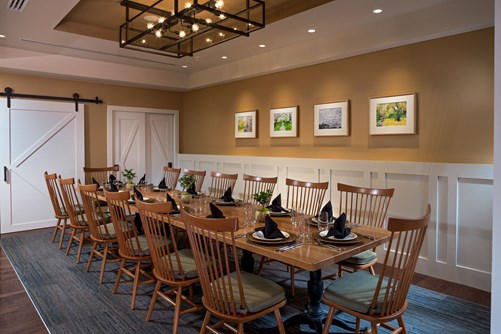 Showcasing the best of locally sourced produce and meats, our Executive Chef Neal Drinkwine has selected the finest ingredients from The Common Market to present the first Chef's Table of 2019.  While Broad Table Tavern uses products from The Common Market on the daily menu, for this February's dinner guests will experience five courses highlighting fresh ingredients from farms right in our region.  This private dining experience serves as an interactive family-style dinner. Chef Drinkwine will share where the ingredients for each course were sourced from throughout the evening. 
This intimate dining experience will take you on a journey throughout the northeast region with fresh vegetables from Black Horse Farm in New York to the most flavorful and tender pork from Liberty Delights in Maryland. And no chef's table would be complete without a course featuring ingredients from Shellbark Hollow Farm in Honey Brook, Pennsylvania.  The experience with the Chef's Table this February 4th will take guests down a delicious taste journey of several east coast-based farms.  Creating courses with local ingredients that now come with a story of family and tradition will have guests now only knowledgeable of their meal but able to share a special night with others within their community with the same love of food.  The transparency of where your food comes from makes The Common Market such an ideal partner for our first 2019 Chef's Table.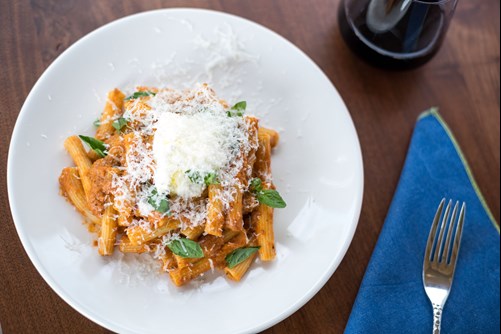 Who we are bringing to the table?
Liberty Delight Farms
Liberty Delight Farms has values that Broad Table Tavern fully supports.  Shane Hughes, the farmer, and owner, the family business is built on three cornerstones as their foundation:  health, happiness, and sustainability.  Within 10 years, Liberty Delight Farms has grown from 10 head of cattle to a thriving farm business providing free-range pork and grass-fed beef throughout the Mid-Atlantic region.  Located on the family's historic property in Reisterstown, MD., we are proud to partner with such a historical farm and the course that Chef Neal will create will be one guests will forever remember. 
Gehman Family Farm
For another one of our courses, Chef Neal has selected seasonal ingredients from The Gehman Family.  Just 45 minutes north of Swarthmore, The Gehman Family farm has grown their family farming business of live lettuce and basil plants, produced all year around.  Tim Gehman and his wife conserve resources daily due to their process of heating their greenhouses with waste wood and relying on rainwater to grow their crops.  With their hydroponic growing system being used over the last few years, it has allowed for their operation to become highly efficient. 
Black Horse Farm
The Zimmerman family has owned their breathtakingly beautiful 800-acre produce farm since 1960 started with only 225 acres of land.  Producing beautiful and healthy vegetables from cabbage to squash, just to name a few, Black Horse Farm in Coxsackie, New York, provides wholesale production to the Mid-Atlantic region through The Common Market.  In addition, the Zimmerman family manages 42 greenhouses that grow all their field plants then planted directly to the fields.   From colorful annuals and herb plants being grown to even their packing sheds and business offices, all being family managed meaning care and ownership are placed in every detail.  The experience Lloyd Zimmerman the farm's president brings to the farm is displayed in his farming skills and consistently strong work ethic.  His skills were passed along to his daughters and as they now nurture the carefully selected seeds and manages the complexities of their greenhouses.  With a family motto of striving to pack and deliver all their products within 24 hours of harvest, we are receiving the freshest ingredients brought to our guests every day at Broad Table Tavern. 
To continue with using regional partners for the Chef's Table dinner series, our menu will also pair each course with a wine that was personally selected by our Director of Food & Beverage, Dave Maiden and Chef Drinkwine to highlight the flavors of each course.  To enjoy this interactive dinner, please reserve your seat with our Broad Table Tavern host directly at 610.543.7500.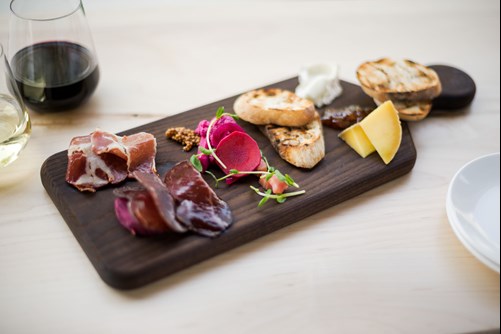 This interactive Chef's Table will take place on Monday, February 4, 2019, starting at 6:30 PM.
$95 per person (gratuity/tax not included)
Seating is limited | Reservations Required | 610-543-7500