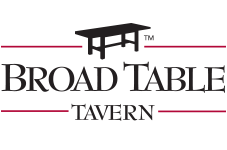 About

Broad Table Tavern

 

Established in 2016, the Broad Table Tavern rests in the heart of the Borough of Swarthmore next to the campus of beautiful Swarthmore College.  Located in The Inn at Swarthmore, the tavern maintains the traditions of the area, providing locals and travelers from around the world a welcome setting to relax and enjoy Modern American Neighborhood Tavern fare. 

Offering a convivial atmosphere, featuring local craft beers, classic American Bourbons and a twist on traditional American favorites, the warm staff of the Broad Table Tavern is the ideal spot for colleagues, family and friends.  Join proprietor Pauline Scott-Brown and chef Neal Drinkwine for a great meal or cocktail and return again and again to our friendly neighborhood establishment.

What's New 

Broad Table Tavern

 

NEW HOURS | OPEN DAILY FOR INDOOR & OUTDOOR DINING & TAKEOUT

Breakfast Hours
Monday-Friday 7:00am-11:30am
Saturday & Sunday 9:00am-12:00pm

Lunch Hours
Monday-Friday 11:30am-4:00pm
Saturday & Sunday 12:00pm-4:00pm

Dinner Hours
Monday-Saturday 4:00pm-9:00pm
Sunday 4:00pm-8:00pm

Bar Hours
Sunday-Thursday 11:30am-10:00pm
Friday & Saturday 11:30am-11:00pm

 

Please click here to view our welcome back message.