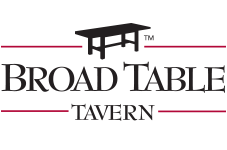 About

Broad Table Tavern

 

At Broad Table Tavern, our menus are inspired by the seasons, showcasing locally sourced ingredients and regional artisan products. Our signature restaurant in Swarthmore, PA was created to celebrate the partnership with local farms, vineyards, breweries, and purveyors who share our vision for the finest flavors and quality possible. 

Offering a convivial atmosphere, approachable beverage selections, and warm staff Broad Table Tavern is the ideal gathering spot for colleagues, family, and friends. We look forward to welcoming you to our table.

What's New 

Broad Table Tavern

 

NEW HOURS | OPEN DAILY FOR INDOOR & OUTDOOR DINING & TAKEOUT

Monday: 12 - 8

Tuesday: 12 - 8 

Wednesday: 12 - 8

Thursday: 12 - 8

Friday: 12 - 9

Saturday: Breakfast from 9 - 12 | All Day Menu from 12 - 9

Sunday: Breakfast from 9 - 12 | All Day Menu from 12 - 8

Please click here to view our welcome back message.

 

 

 
Aug
12
2021
Thursday
8/12/2021
5:00 PM - 9:00 PM
Broad Table Tavern
10 South Chester Road
Swarthmore PA, 19081

Nights in the Ville
Explore the Ville with a special dine-in or take-out menu from BTT, shop the local merchants that will stay open late, take in the live music, and a fun-filled kid zone on select Thursdays this summer.
View Menu
Where
and

When

Monday: 12 - 8

Tuesday: 12 - 8 

Wednesday: 12 - 8

Thursday: 12 - 8

Friday: 12 - 9

Saturday: Breakfast from 9 - 12 | All Day Menu from 12 - 9

Sunday: Breakfast from 9 - 12 | All Day Menu from 12 - 8


Our restaurant in Swarthmore is open to the public and located at:
10 South Chester Road | Swarthmore, PA 19081

610-543-7500