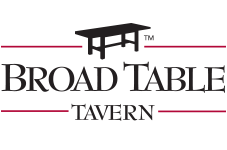 About

Broad Table Tavern

 

At Broad Table Tavern, our menus are inspired by the seasons, showcasing locally sourced ingredients and regional artisan products. Our signature restaurant was created to celebrate the partnership with local farms, vineyards, breweries, and purveyors who share our vision for the finest flavors and quality possible. 

Offering a convivial atmosphere, approachable beverage selections, and warm staff Broad Table Tavern is the ideal gathering spot for colleagues, family, and friends. We look forward to welcoming you to our table.

 

 

 

 

   

       

 
What's New 

Broad Table Tavern

 

NEW HOURS | OPEN DAILY FOR INDOOR & OUTDOOR DINING & TAKEOUT

Sunday from 11:00 AM to 8:00 PM | Monday from 12:00 PM to 8:00 PM | Tuesday - Saturday from 12:00 PM to 9:00 PM

 

 

 

Please click here to view our welcome back message.

 

 

 
Where
and

When

Sunday: 11:00 AM - 8:00 PM
Monday: 12:00 PM- 8:00 PM
Tuesday - Saturday: 12:00 PM- 9:00 PM
Our restaurant is open to the public and located at:
10 South Chester Road | Swarthmore, PA 19081

610-543-7500